The largest, cheapest source of new electricity in New England
Harnessing Aroostook County's abundant wind resource to generate renewable energy for homes and businesses in Maine and beyond
King Pine Wind will bring numerous advantages, including reduced energy costs for customers and economic benefits for Aroostook County and across Maine while providing a cleaner, healthier environment. This Maine-made, clean energy source will help to:
provide local economic benefits
lower electricity costs
increase winter reliability
improve energy security
reduce carbon pollution
Long-term Benefits
Ratepayer
King Pine Wind's zero fuel cost will displace more expensive generation and lower market prices, offsetting the cost of transmission infrastructure
A new transmission infrastructure in Aroostook County can provide benefits for future reliability and economic opportunities
Provide protection against winter price spike events
Economic
$300 million in-state spend during development and construction; 3,200 jobs (full-time equivalent)
$125 million in-state spend during operations; 30 full-time jobs
Leverage Maine's experienced engineering, consulting, and construction supply chain
Employment opportunities during construction, skilled wind technicians, operations staff, and support functions
Realize ~$60 million in property taxes
 Community Benefit Package: State required minimum of $4,000/turbine per contract year, however King Pine Wind intends to grant a higher-value package
Environmental
Generate ~ 3 billion kWh/year of renewable energy, enough to supply ~ 450,000 electricity customers
Achieve ~ 1.3 billion tons CO2 avoidance/year, equivalent of removing ~ 260,000 passenger vehicles annually
Project details
| | |
| --- | --- |
| Developer | King Pine Wind Maine, LLC (a subsidiary of Longroad Development Company, LLC) |
| Location | Centered in and around Webbertown Township, west/northwest of Houlton, generally north of I-95 between Route 1 and Route 11 |
| Project Size | 1,000 MW (~170 turbines) |
| Total Project Area | Approximately 4,500 acres |
| Expected Construction Start | 2028 |
| Development Costs | ~$2 billion, with an estimated ~$425 million spent with Maine vendors |
| Property Tax Revenue | ~$60 million |
| Local Community Benefits | $4,000/turbine/year minimum |
FAQ
Location
Where will King Pine Wind be located?

King Pine Wind will be centered in and around Webbertown Township, west/northwest of Houlton, generally north of 1-95 in the area between Route 1 and Route 11 on actively managed, private commercial timberland.

How many acres will King Pine Wind require?

King Pine Wind will encompass approximately 4,500 new and previously cleared acres for roads, turbine pads, and electrical lines (subject to final engineering). Where possible, the project will utilize approximately 500 miles of existing logging roads within the project area and except for new graveled roads, parking areas, substations, and project offices, most of the land utilized will be maintained as trees and shrubs.

How will King Pine Wind impact recreation in the area?

Except when the project is actively under construction, there will be minimal changes to existing uses of the property for recreation, including hunting, fishing, and snowmobiling. Land that is not utilized by the project will remain under the control of the underlying landowner.
Benefits
Project Details
Transmission-Related Questions
What is the relationship between King Pine Wind and the LS Power Grid Maine Aroostook Renewable Gateway transmission line?

The Maine PUC conducted separate solicitations for transmission and for generation, selecting LS Power Grid Maine, LLC to develop the Aroostook Renewable Gateway transmission line and King Pine Wind Maine, LLC to develop the wind project separately. There is no co-ownership or joint development of the projects, however both companies continue to coordinate efforts. Both projects will have to be successfully developed and put into service in order for power to flow and the anticipated benefits to accrue.

The capacity of the line will be 1,200 MW, but King Pine Wind will be 1,000 MW – will another 200 MW project fill the remainder of the transmission capacity?

The Maine Legislature has recently taken steps to utilize this remaining transmission capacity. On June 22, 2023, LD 1943 passed both the Maine House and Senate, directing the Maine Public Utilities Commission to initiate a procurement for an additional 200MW of renewable power.
Next Steps
What are the next steps in the process?

What are the next steps in the process?
Many contractual, permitting and planning activities and milestones must take place before King Pine Wind is ready to begin construction. The following outlines some of the critical activities remaining:

1. Energy Contracts

Power purchase agreements negotiated and executed with Maine and Massachusetts utilities
Regulatory approval of contracts

2. Interconnection Studies & Approval from ISO-NE

Release of ISO-NE 3rd Maine Renewable Integration Study (MRIS) results
Complete Cluster System Impact Study (CSIS)
Complete Facilities Study
Execute Interconnection Agreement

3. Local Community Engagement

Early outreach to provide basic project information and answer questions
Once field studies and engineering has progressed, and prior to filing permit applications, additional community outreach to provide more detailed information.
Determine community benefit packages and local taxes

4. Permitting

Complete environmental studies
Prepare permit engineering: site layout, civil/stormwater, electrical
File and secure project permits: local, state, federal

5. Pre-Construction

Finalize wind turbine selection
Execute equipment supply agreements
Execute construction contracts
Complete detailed engineering and design
Secure project financing

Construction is expected to start in early 2028, with project energization in phases starting in late 2029.
Longroad's investment in Maine
Since 2006, our team has invested more than a billion dollars in developing over 800 megawatts of clean energy in Maine. We also employ Maine Maritime Academy graduates and U.S. military veterans at our Scarborough office to operate and manage hundreds of wind and solar projects throughout the country.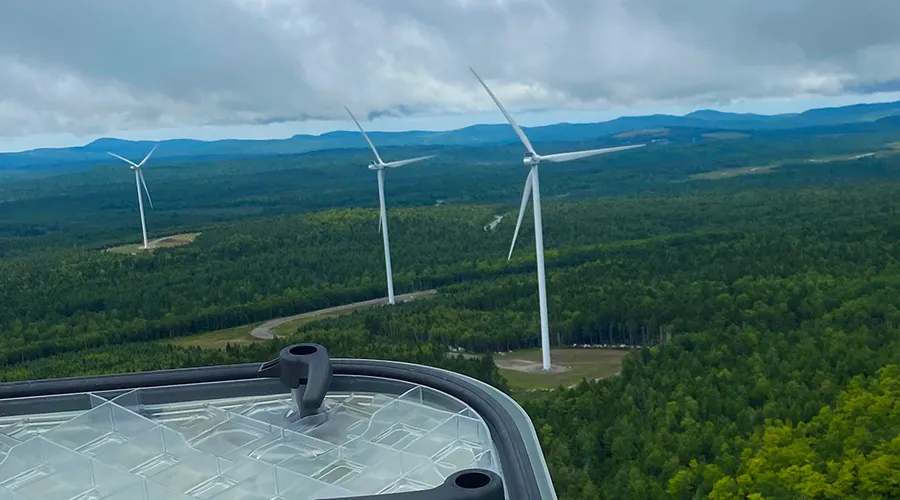 Stay informed
Receive updates about King Pine Wind and ways to make your voice heard
"*" indicates required fields